Keratin hair treatment – also referred to as a Brazilian keratin treatment – are chemical treatments that capitalize on the protein Keratin, which helps strengthen hair to prevent breakage, heat damage, and frizz.
Keratin Treatments: The process
Be prepared to get comfortable – the time in which the treatment takes depends on your hair length and type.
The process begins with your stylist washing your hair then applying the keratin treatment onto your still-damp hair, which will sit for 40 to 60 minutes if you decide to get the organic keratin treatment. Finally, the treatment will be heat-activated, and your stylist will straighten your hair.
Benefits to Keratin hair treatments
Keratin – a protein naturally made in the body – is found in our hair, skin, and nails.
When you receive a professional keratin treatment, you'll be able to enjoy these benefits:
Silky-smooth hair
Keratin smooths cells that overlap to form hair strands leaving you with less frizz which equals more manageable hair.
Long-lasting results
Your keratin treatment can last up to six months with proper care – this includes not washing your hair as frequently (2 to 3 times a week is perfect).
Manageable hair
For ladies or gentlemen with thick frizzy hair, keratin helps to make it manageable.
If you use heat to style your hair frequently, you'll notice that your hair dries more quickly with a keratin treatment.
You'll also enjoy the perks of saving your hair from heat damage as keratin allows you to air-dry your hair while maintaining a fantastic aesthetic of your hair.
Hair Maintenance
Once you receive a keratin treatment, the maintenance is easy.
However, please not once you have the Keratin treatment, chlorinated or salt water can shorten the life of your keratin treatment. We also recommend that you invest in shampoo and conditioner, free of sodium chloride and sulfates, as they can strip your hair of the treatment.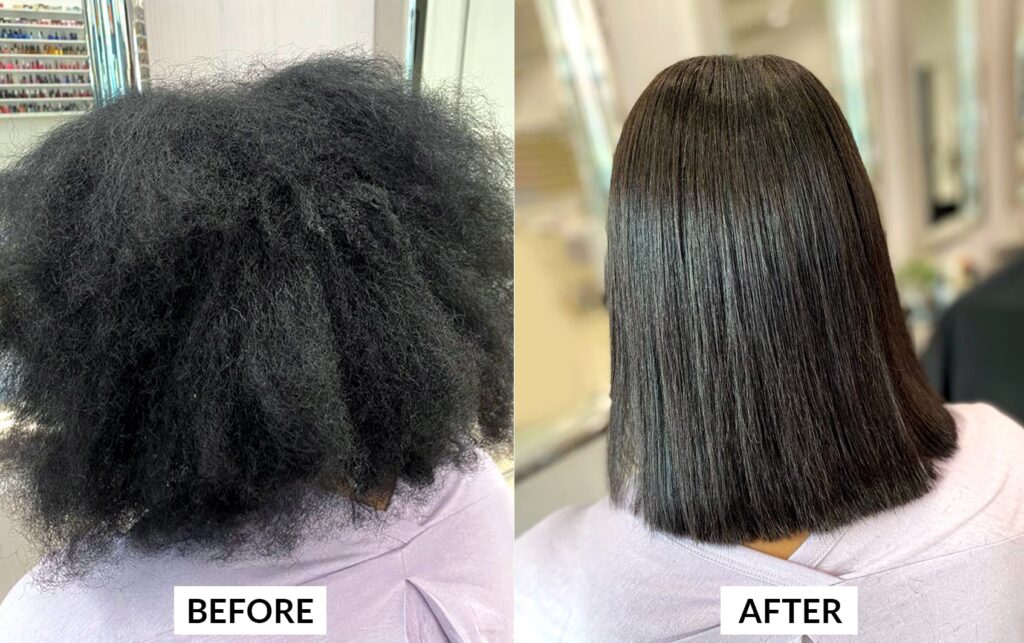 It's not magic, it's called Keratin Straightening Treatment! 💖
Is it different from a chemical relaxer?
Certainly so. Keratin treatments are temporary and wash out after a few months. However, things like straightening chemical relaxers are permanent.
Both treatments use different ingredients in order to achieve extraordinary results. Unlike straightening chemical relaxers, keratin doesn't alter the chemical composition of your hair and injects the porous parts of your hair with protein to feel smoother.
Who should avoid keratin treatment?
Pregnant women and Kids should avoid the Chemical keratin treatments and choose the Organic keratin treatment.
Keratin is amazing for those who want to tame their frizzy hair and want smooth straight hair long-term. Keratin treatments may not be for everyone, but those who believe it fits what they're looking for in a hair treatment will enjoy having easier to manage hair day to day.
Organic & Chemical Keratin Treatments
Share